I decided to jump on the band wagon and join Carissa's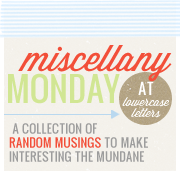 A good friend of mine joined and I enjoy reading about the regular things in life that she seems to enjoy. Plus...it seemed like fun and my personal favorite...SIMPLE, so why the heck not!!
So enjoy my Miscellany Monday...FUN WEEKEND REPORT!!

sleeping in till 9am

beautiful blue morning skies

making blueberry buckle

having lunch with my sister-friend Kathy at Camilles(love that place!)

Spending the afternoon shopping with my youngest daughter

going on a bike ride with my family

steaks on the grill

watching DVR episodes Burn Notice with my stud
Sleeping late...again

Taking lunch to the crew who moved in my mom's new home(her's burned down a year ago)

Taking the girls to Greencastle to meet up with their cousin and spend the night with

Noticing a sign that said 25% off everything in the antique store

Purchased 4 metal flower hat pins for a whale of a deal(will show off later)

Buying a gorgeous dress and thrilled that I can tell I've lost some weight

Spending a quiet evening at home with the hubby

Go to church

Practice with Praise Team

Headed to Indy after church

Met the family at BD's Mongolian Grill
Went to Frankfort for a picnic and Fireworks
Caught up with sweet friends
enjoyed the fireworks
Attempted to light myself on fire with the citranella candle
THAT DID NOT KEEP THE MOSQUITOS AT BAY...
Mosquitoes declared war on me
Headed home scratching from head to toe
Got pulled over for going to slow
Watched School of Rock before going to bed.
Love my life...
Blessings,
Missy