ITS FRIDAY (doing the happy dance!!)
FAB FOTOOOO FRIDAY!!!!!!!!!!!!!!!!!!!
My featured
Fab Foto
is from a site I found this week, that
IM IN LOVE WITH!!!

Introducing...drum roll pleasssse....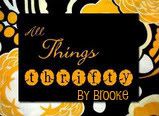 This chica know her stuff and it shows...
on July 2nd.
She featured Lisa Danielson on her idea for the high chair.
I am always on the lookout for props to liven up my foto ops..
Just in recent weeks, I have had calls for photographing some little ones...mostly girls...so when I saw this..I knew...The hunt was on!
I'm looking for one of these...
(photos from All Things Thrifty)
To turn into one of these...
I love what a little paint will do!!
I love it and I know you'll love the other great ideas she posts on the site.
I have actually sat down with my hubby to decide which project we are going to tackle first!!
So whats your Fab Foto that you want to share with the world??
Link Up and SHARE!!!
Blessings,
Missy